Check out Our New Website Click Here Thanks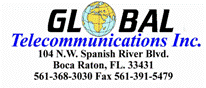 Global Telecommunications Inc. is a leading provider of cost effective business telecommunications equipment and services.
Over 29 years of experience servicing

South Florida.
Our highly trained technicians and knowledgeable communications consultants, are the foundation that has established our reputation of quality service. Global has the expertise to install and service all your Voice and Data Communications needs. Please come in and look around our website.

1-800-940-3030 Fax 561-391-5479
Copyright 2004 Global Telecommunications Inc.. All rights reserved